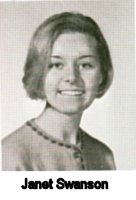 Undated Photo
From social security death index record:
Died in Carver County, MN: March 29, 2007
Cause of Death - Cancer
Married: John M Gianotti - 3/15/1974
Obituary:
Gianotti, Janet Grace (nee Swanson) age 56, of Chan- hassen, passed away at home on March 29, 2007. Preceded in death by father, Glenn Swanson. Survived by her loving husband of 33 years, Mike; son, Robert; daughter, Michelle (Justin); granddaughter, Amanda; mother, Margaret Swanson; brothers, Richard (Brenda) and Paul; extended family & many friends. Janet was a 10 year Girl Scout, musician, home health aide, and lifelong volunteer.
Memorial Service Tuesday, April 3, 11 AM, with gathering of family & friends Monday, April 2, 5-8 PM all at Living Christ Lutheran Church, 820 Lake Drive, Chanhassen.
Washburn-McReavy Eden Prairie Chapel 952-975-0400