from published obituary: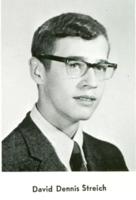 David Dennis Streich, age 52, of Howard Lake, passed away Saturday, Oct. 5, 2002, at Fairview-University Hospital, Minneapolis, due to complications of leukemia.
David was born Feb. 25, 1950, the son of Harlan and Rachel (nee Yager) Streich of Howard Lake. He was baptized at St. James Lutheran Church, Howard Lake, and confirmed in his faith at Redeemer Lutheran Church, Wayzata.
He graduated from Wayzata High School and served his country from 1970 to 1973 in the army stationed in Germany for a portion of his service time.
He married Laurie Ann Peterson of St. Louis Park April 10, 1976. Their 26 years together were blessed with two children. David's profession was a diesel mechanic. Outside of work he enjoyed fishing and hunting.
David was diagnosed with leukemia last November. After numerous chemotherapy treatments and set-backs, he finally received a bone marrow transplant in June of this year.
He developed Graft-vs-Host Disease, which is a complication from the transplant, making it necessary for him to receive treatments daily at the University Hospital, and undergo another round of chemotherapy.
Last month he learned the leukemia had returned and he had to make the choice to fight the Graft-vs-Host Disease or the leukemia.
He fought long and hard, hoping to go ice fishing this winter but, on Oct. 5, he was instead called to his eternal rest at the age of 52 years, seven months, and 10 days.
David was preceded in death by his father Harlan Streich, mother-in-law Ann Peterson, grandparents Fritz and Gladys Yager and Ted and Minnie Streich, and uncles Ed Hecht and Harvey Treichler.
He is survived by his wife Laurie; son and daughter-in-law Charles and Dusty Streich, along with his expected grandchild, of Silver Lake; daughter Melanie Streich of Howard Lake and close friend, Tom Miller, of Waverly.
He is also survived by his mother Rachel Streich of Hopkins, sister and brother-in-law Rosalie and Gerald LaMott of Richfield, brothers Craig and wife Debbie of Maple Grove, and Gaylen of Hopkins; nieces, nephews, and a host of relatives and friends.
Arrangements were made by the Cremation Society of Minnesota, Edina.
Funeral services were Friday, Oct. 11, 2002, at St. James Lutheran Church, Howard Lake, with Rev. Michael Nirva and Rev. Martin Schoenfeld officiating.
The organist was Nancy Butterfass.
Interment was at Fort Snelling National Cemetery, Minneapolis Thursday, Oct. 10, 2002